Overview
ATLANTIS project aims to establish a pioneer pilot infrastructure capable of demonstrating key enabling robotic technologies for inspection and maintenance of offshore wind farms.
This large-scale pilot "ATLANTIS Test Center" will be deployed in Viana do Castelo, Portugal, to capture the weather and sea state conditions of the Atlantic Ocean.
ATLANTIS project exposes the urgency in guarantee an early access by medium-sized enterprises (SMEs), R&D institutions or energy operators to a pilot infrastructure for validating innovative and technological solutions with high potential to leverage key market sectors and the blue growth.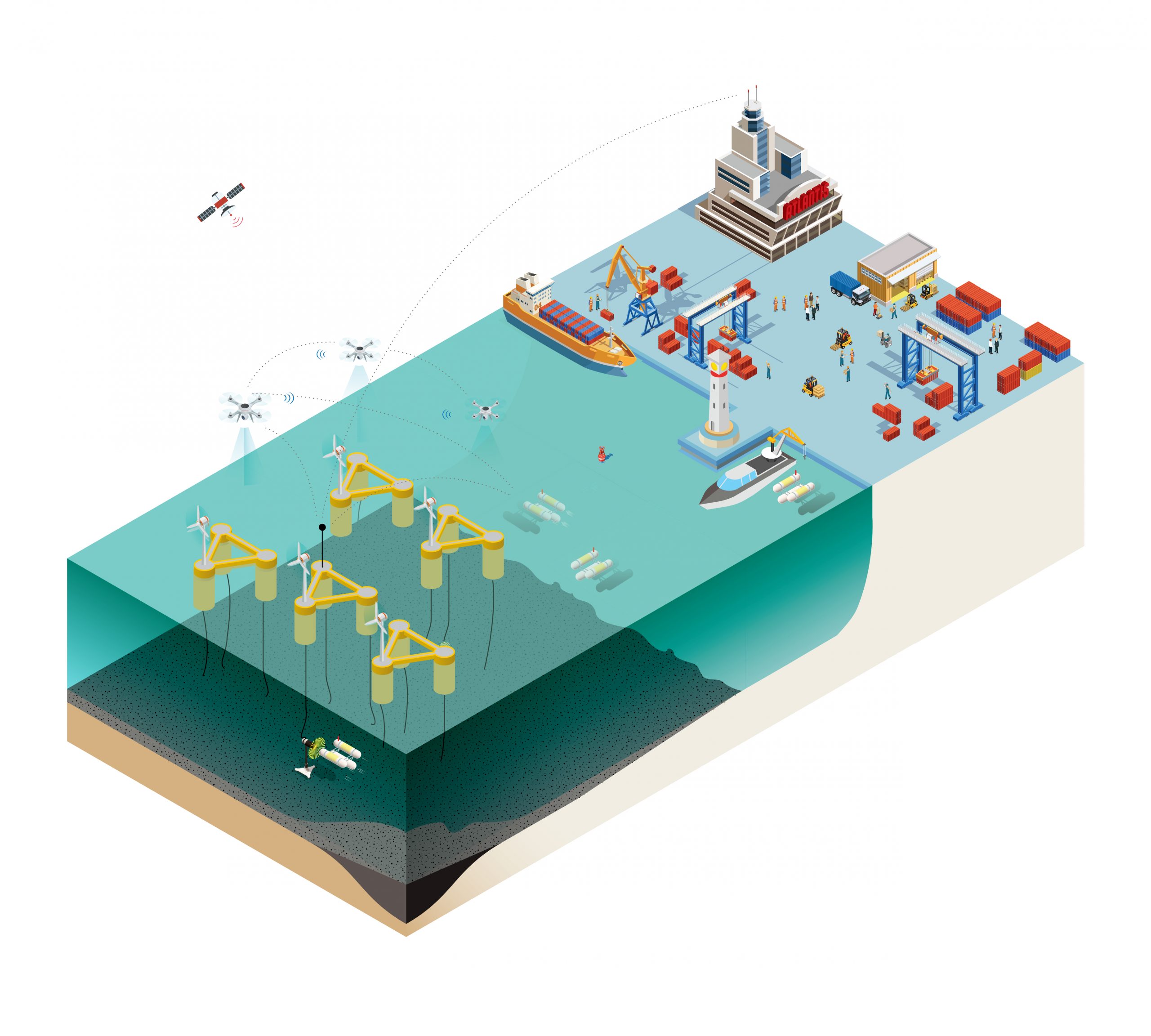 Objectives
Obj. 1  – Deployment of a large-scale pilot featuring weather and sea state conditions from the Atlantic Ocean and centred on the market expectations.
Obj. 2 – Design of new industry-oriented showcases describing concrete scenarios for the inspection and maintenance below and above water.
Obj. 3 – Develop a new demonstration methodology formed by successive phases of increased complexity.
Obj. 4 – Improve heterogeneous robots for IMR activities which levels of automation in the scenario are varied to enable robots to reach technological maturity and commercial readiness level.
Obj. 5 – Promoting robotics in supply chains by demonstrating the benefit role in terms of increased IMR efficiency and reduced of life-cycle costs for a real offshore wind farm.
Obj. 6 – Develop a sustainable ecosystem through the involvement of key stakeholders from the R&D, industrial sector and local governments, cooperating side-by-side for knowledge-based investments, entrepreneurship and regional growth.
Obj. 7 – Assessing the added value and the risk of IMR activities performed by robots to secure the long-term future for European offshore wind technology.
Obj. 8 – Develop a new certification roadmap to measure the impact of adverse of potential ecological effects or property damages from the uncertainties of robotic-based I&M to culminate in guidelines towards a new certification and standardization.